MaximaVida x Flying Carpet Rotterdam
Extra colour on the Flying Grass carpet at the Thearte Square in Rotterdam!
One large terrace!
In cooperation with the States of Rotterdam, MaximaVida has delivered 32 metal Max chairs XXL in the colours aqua and yellow. The metal chairs are displayed on the Flying Grass Carpet of a whopping 3,500 m2! Visitors can use these chairs and move them around the entire Theatre square and sit together comfortably. The States of Rotterdam where looking for chairs that will 'invite' people to take a seat. Colourful metal chairs are very suitable for this purpose. This, combined with the wide seat the chair offers, will allow every person to sit comfortably and makes it a perfect choice!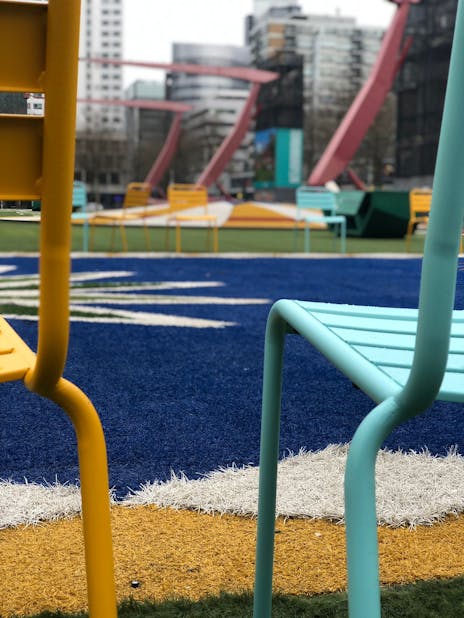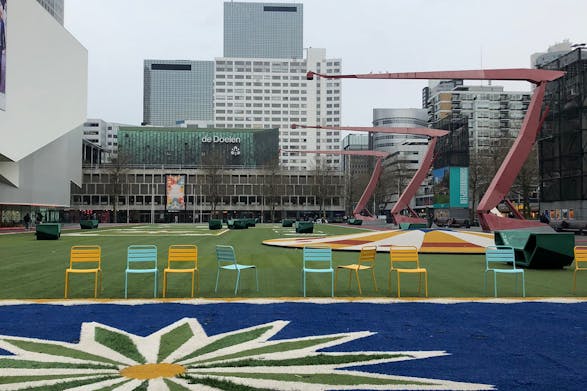 Unique square
The flying Grass Carpet is a work of art made of about 3500 M2 artificial grass and can be found on the theatre square of Rottterdam. This square is unique and well-known over the whole world. The carpet was supposed to be temporarily, but because of its incredible popularity with visitors, residents and tourists, the carpet of artificial grass can stay until the large renovation of the theatre square is done. Beforehand, the square was furnished with mainly wood and steel, but this colourful carpet has positively changed the experience and transformed the square into a meeting place. In the summer you will find people sitting on the artificial grass and chairs. A lovely place to enjoy the sun with children, families, friends or a group of colleagues.
The colourful chairs can be found around the so called 'de bedriegertjes', these a fountains where children can run through. Beautiful and unique on this location. The states of Rotterdam add: "The chairs are a wonderful addition to the ensemble, we think they are a better match then the previous chairs".
When you are in the area of the Theatre square in Rotterdam, we definitely recommend you to take a peak! If not for our beautiful chairs then just to enjoy this lively square!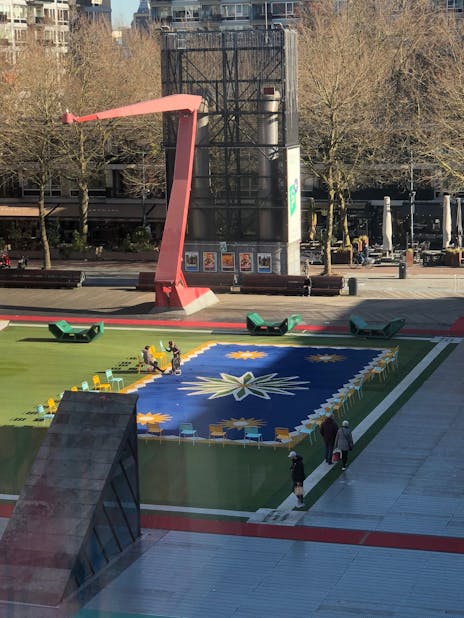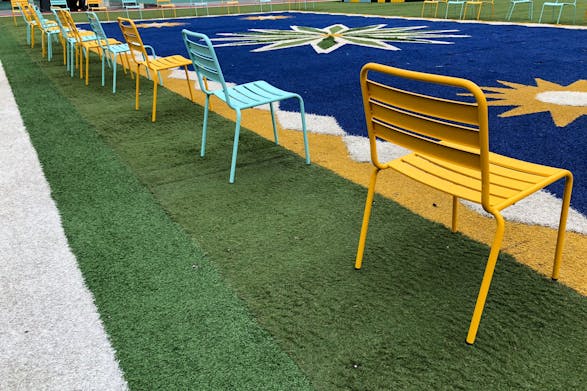 Metalen tuinstoel Max XXL